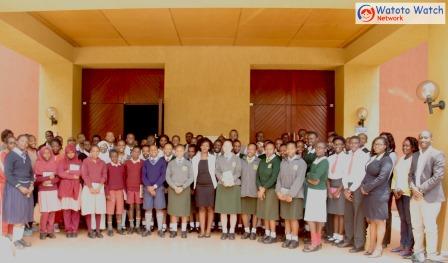 Held at Strathmore University on 16th Sept, 2016.
The internet we want!
On the 15th of September 2016 Watoto Watch Network brought together children and young people from 9 different schools, between the ages of 13-18 to give their views on the proposed Computer and Cyber Crime Bill 2016.
The aim of the forum was to engage the public (children) in the process of policy formulation as required by the Kenyan constitution. It gave the children a platform to voice their cyber crime related issues being they are very heavy users of the internet. The session was guided by various policy organizations, namely; Watoto Watch Network, Department of Children Services ,Communications Authority, KICTANET, Department of Criminal Investigation – Cyber Crime Unit, Law Society of Kenya, KEPSHA, KSSHA, Strathmore-School of Law, Diplo Foundation, Access Now and Kenya Law Reform Commission.
Some of the topics discussed were cyber bullying, sexting, online grooming, child pornography, online privacy, online gaming and reporting. On all the issues mentioned, cyber bullying received a strong reception by the children in regards to the penalties highlighted in the bill, that is; a fine not exceeding 20 million shillings or imprisonment of a term not exceeding 10 years, or both. Their view on this was that it was too harsh of a sentence. They recommended if minors below the age of 15 could get a less harsh penalty eg. Rehabilitation.
They also mentioned cyber stalking as an issue they are facing every day but they did not understand the clear definition of the crime as highlighted on the bill. i.e. when does liking someone's photos and commenting nice things on their social network pages become an offence-cyber stalking?
They also requested for security as incidents are being investigated i.e. threats
All the other crimes were also discussed in detail, suggestions and recommendations made by the children were taken into account and forwarded to the relevant government ministry.
Something that came out very clearly in regards to reporting online incidents, 85% of the children were not open to approaching their parents for help if they faced online issues i.e. cyber bullying. Reasons given were; fear of being reprimanded, some felt parents are not conversant with trending social network sites therefore they will not understand what support to give, lastly embarrassment over the crime committed e.g. sexting gone wrong. On the day they learnt on various ways to report and to which government body to report these cybercrimes to.
Issues that had missed out and were seen important by the children were also included i.e. online gaming, where children are asked their personal information before they play a game; what is the information gathered used for?
This was a great learning session for both the children and policy makers that were in attendance. Children's forums like this one will be ongoing as we move forward in ensuring the safety of children online.